Akiba first experience tour (spot sightseeing in 2hours)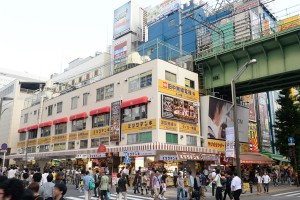 | | |
| --- | --- |
| Tour Code | FA |
| Setting period | The full year |
| The minimum number of participants | 2 |
| Point of departure | 秋葉原駅 |
| Meal | One drinks service at maid cafe or moe & kawaii sushi included |
| Price | JPY8900 |
| Child | the same rate as adults |
This course for beginners who don't know how to enjoy Akiba.
It is a 2-hour course including "maid cafe" or "Fresh and Kawaii moe sushi" experience.
Also we are open for your requests, so please do not hesitate to contact us.
Check Point
<The highlight of the tour (2 hour course)>
・Akiba history of electric parts town
・Photos with cute robot
・Landmarks
・Figures
・One drinks service at maid cafe or moe & kawaii sushi included
<Sample itinerary>
Nadesiko Sushi (Lunch)→Electric parts street→Figure shop→Old Manseibashi Station→Duty free shop→Gachapon experience
※Route can be changed or added upon request if not too far. Please let us know if there is any specific spot you want to go in advance.
<Menu at Nadesiko Sushi(moe & kawaii sushi)>
California roll (1 roll) (cheese, avocado, lettuce)
Nigiri (4 pcs) (Tuna, Tune belly, Salmon, Salmon with mayo and cucumber)
Shrimp tempura sushi (rice with small shrimps)
Egg (omelet)
http://www.nadeshico-sushi.com/
<Notes>
Tours will be guided in Japanese with translation service in English, please inform us when applying.
You can entry from this e-mail form.
Akiba first experience tour (spot sightseeing in 2hours)