Akiba first experience tour (spot sightseeing in 2hours)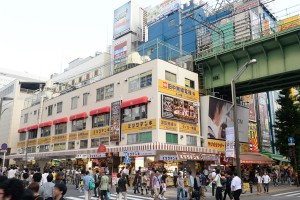 | | |
| --- | --- |
| Tour Code | FA |
| Setting period | The full year |
| The minimum number of participants | 2 |
| Point of departure | 秋葉原駅 |
| Meal | One drinks service at maid cafe or moe & kawaii sushi included |
| Price | JPY9900 |
| Child | the same rate as adults |
This course for beginners who don't know how to enjoy Akiba.
It is a 2-hour course including "maid cafe" or "Fresh and Kawaii moe sushi" experience.
Also we are open for your requests, so please do not hesitate to contact us.
Check Point
<The highlight of the tour (2 hour course)>
・Akiba history of electric parts town
・Photos with cute robot
・Landmarks
・Figures
・One drinks service at maid cafe or moe & kawaii sushi included
 ※You can choose Moe & kawaii sushi on Satudays , Sundays and japanese public holidays.
<Sample itinerary>
1:30P.M. Akihabara Station Start→Electric parts street→Figure shop→Maid cafe or Nadesiko Sushi→Old Manseibashi Station→Duty free shop→Gachapon experience→3:30P.M. Akihabara Station Goal
※Route can be changed or added upon request if not too far. Please let us know if there is any specific spot you want to go in advance.
<Notes>
Meet at J.R. Akihabara Station Electric town exit at 1:15 P.M.
Start at 1:30 P.M.
Finish at 3:30 P.M.
Tours will be guided in Japanese with translation service in English, please inform us when applying.
You can entry from this e-mail form.
Akiba first experience tour (spot sightseeing in 2hours)